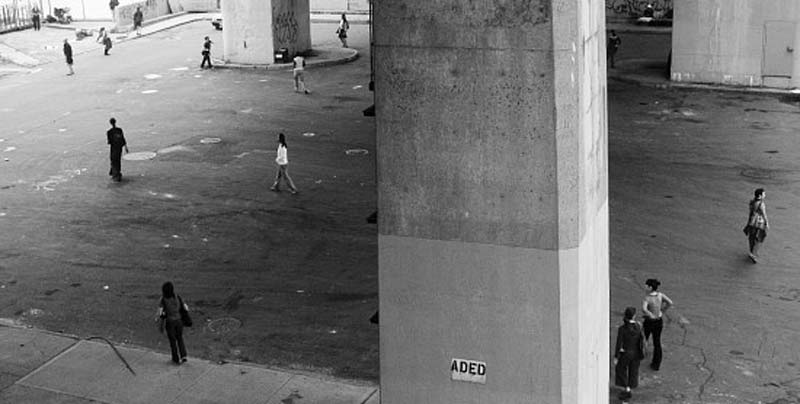 Collaborators: Choreographer Hope Mohr and Composer and Acoustic Ecologist Michelle Nagai. The residency was held September 11-23, 2006 in NYC.
Movement Research's Critical Correspondence is hosting a web-based dialogue with Nagai and Mohr and the general public at: http://movementresearch.org/publishing/?q=node/119 The residency investigated an active listening and moving practice within the urban soundscape. The public was invited to participate in soundwalks on Saturday, September 16, 2006 in the Times Square area and Saturday, September 23, 2006 in Long Island City.Before each walk, iLAND artists introduced participants to a listening-based movement language. The group then embarked on a walk to explore listening and movement in public space. After the walk, participants had an opportunity to share their experiences in a facilitated discussion. These were free events open to the public.
Grand Central Soundwalk Workshop, September 16, 2006, 1-3 pm; Bryant Park, Josephine Shaw Lowell Memorial Fountain, Western entrance at 6th Avenue and 41st Street, New York City, NY.This soundwalk followed a route through Bryant Park and east through Grand Central Station. From there, we continued east on 42nd Street to 217 E. 42nd Street.The discussion with the participants and special guest Barbara Dilley, originator of the practice of Contemplative Movement, moderated by E.J. McAdams of NYC Audubon, followed the soundwalk. Location: Chashama, 217 E. 42nd Street, between 2nd and 3rd Avenues.
Sounds
Click here to listen to the Grand Central Station Soundwalk discussion at Chashama (Audio by Michelle Nagai).
Click Here to listen to the Grand Central Station Soundwalk discussion "Feedback" at Chashama (Audio by Michelle Nagai).
Long Island City Soundwalk Workshop, Saturday, September 23, 2006, 1-3 pm; The Chocolate Factory, 5-49 49th Avenue, Long Island City, NY, 718-482-7069.
This guided soundwalk followed a route around the Queens neighborhood of Long Island City, which features a diversity of sound environments, including industrial zones, the entrance to the Queens-Midtown tunnel, residential streets and a riverside park.
The discussion with the participants followed the soundwalk, moderated by Jennifer Monson, Artistic Director of iLAND. Location: The Chocolate Factory.
Photos from the Long Island City Sound Walk
[scrollGallery id=6 autoScroll=false thumbsdown=true]
(Photos by Ian W. Douglas)
The residency with Mohr and Nagai facilitated an intensive investigation of listening and moving in the urban soundscape through a two-week studio process with a core group of invited dance artists as collaborator-participants. The primary goal of the residency was to support an active, physical experience of the urban soundscape among participants and the general public. From their respective disciplines of dance and sound, collaborators Mohr and Nagai investigated a collaborative process that integrated auditory and kinetic awareness practices as the basis for experiencing the urban environment. The residency investigated how listening and moving interact and transform each other in distinctly different acoustic environments in New York City.
A number of noteworthy special guests participated in the residency, including Deep Listening founder Pauline Oliveros and Barbara Dilley, originator of the practice of Contemplative Movement. Several specialists in the environmental field served as consultants including Arline Bronzaft (Mayor's Council on the Environment, Noise Commission); and E.J. McAdams (NYC Audubon).
Participants:
Lead Artists: Hope Mohr and Michelle Nagai
Dancers: Biba Bell, Lise Brenner, Robbie Cook, Laura Hymers, Alejandra Martorell, Yves Musard, Rebecca Wender.
Collaborator Bios:
Hope Mohr has had an extensive performance career in the dance companies of Trisha Brown, Lucinda Childs, Douglas Dunn and others. An emerging choreographer, Mohr is currently working as a Guest Artist at Stanford University. She has taught movement to professionals, adults and children in many contexts, including London School of Contemporary Dance, P.A.R.T.S. in Brussels, the ODC School, and the Trisha Brown Studio. In addition to her dance career, Mohr has a J.D. from Columbia Law School and a longstanding commitment to environmental and social justice work.
Composer and acoustic ecologist Michelle Nagai has been organizing and leading soundwalks for family, friends and the general public since 2001. She is one of the founders of the American Society for Acoustic Ecology and an active participant in NYC's sound-ecology-noise awareness community. In 2005, Nagai received a teaching certificate in Deep Listening from the Deep Listening Institute. Her solo work has been presented throughout the US, Canada and Europe and has been supported by the American Composers Forum, Harvestworks, the Jerome and McKnight Foundations, Meet the Composer and Rensselaer Polytechnic Institute.
Contact:
Michelle Nagai, Composer and Acoustic Ecologist
Email: mn@treetheater.org
Jennifer Monson, Artistic Director, iLAND, Inc.
Phone: (917) 860-8239
Email: info@ilandart.org