Starting with the basic question of how and why we experiment, we have spent the past three years developing questions, practices, material, and scores that look at how movement, sound and image can be used to research perceptual, philosophical, and social constructs in our current political and aesthetic contexts. – Jennifer Monson
---
IN TOW
September 23–24 + September 29–October 1, 2016
8 pm (see below regarding pre-attacks)
Danspace Project
Tickets: $20 general admission / $15 Danspace members
in tow is an ongoing performance research project bringing together 10 artists from 4 different decades, straddling location, discipline and aesthetic to create an evolving working process driven by what we each bring "in tow." The performance itself is a site for destabilizing what we are familiar with, testing new ground, defining difference and creating a shared practice that resonates with layers of experience, points of view and perspective. in tow is a collaborative project with Susan Becker, DD Dorvillier, Niall Jones, Alice MacDonald, Jennifer Monson, Valerie Oliveiro, Zeena Parkins, Angie Pittman, Nibia Pastrana Santiago. David Zambrano and Rose Kaczmarowski have also been a part of in tow, but will not be performing at Danspace Project.
The Saturday, September 24, performance will be followed by an open discussion of the experimental contexts, questions and concerns that shape the in tow project led by Professor of Performance Studies, Ramón H. Rivera-Servera.
Please note, every night of in tow is different. If you wish to attend multiple performances, we are offering $10 tickets for each additional performance you attend. Please contact lydia@danspaceproject.org for details.
---
in tow pre-attacks
September 29-October 1, 2016 at 6pm
Danspace Project
FREE
in tow will hold a priming event each evening during the second week of performances. These events will give the audience an opportunity to experience some of the underlying infrastructure of the work. Each night will be different and shaped by a different research area of the project. The events will develop over an hour-long period and prime the experience of the performance event, which starts at 8 pm.
September 29 horizon line/fragment
A perceptual installation that works against the receding nature of a horizon line and brings the public into a new sense of dimensionality and continuity.
September 30 tide/groove
A sound experiment developed from the horizon line set-up and the rhythmic patterns developed through the in tow process. The score activates the particularities of the acoustic architecture of the church.
October 1 solo/collective: tone/relation
A series of solos and duets that pull away what we bring in tow.
For more information, please visit www.danspaceproject.org.
---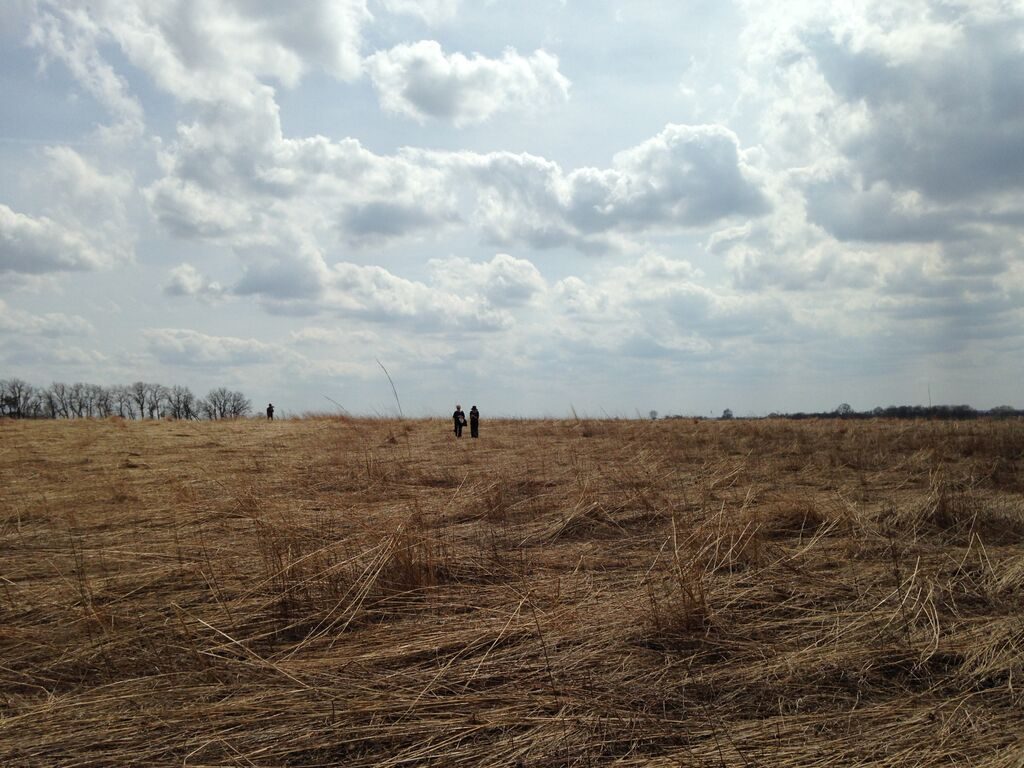 Photo by Valerie Oliveiro
in tow was initiated as a project to acknowledge and deepen the artistic and cultural legacies we carry as "experimental" cultural producers. It acknowledges the importance of experimentation as a mode of being and creates experimental modes of thinking that may not be attached to particular aesthetics and styles, while at the same time acknowledging our bodies' histories.
The material for the performances will be drawn from two years of experimental collaborative research that explores interdisciplinary creative processes across multiple contexts. The collaborators on in tow span discipline, geography, and generation. Some are artists with whom Jennifer Monson has worked since the 1980's: DD Dorvillier, currently based in France; Zeena Parkins, based in New York City; David Zambrano (not performing), originally from Venezuela and currently based in Belgium. Others are new collaborators Monson has met since moving to the Midwest: Susan Becker, a fashion and costume designer based in Illinois; Valerie Oliveiro, a photographer and performer based in Minnesota; and Rose Kaczmarowski (not performing), a costume designer and bicycle community activist based in Indiana. Finally, four younger collaborators are joining the project: Niall Jones, based in New York City; Nibia Pastrana Santiago, based in Puerto Rico; Angie Pittman, recently relocated from the Midwest to New York; and Alice MacDonald, also based in New York.
Jennifer Monson's in tow Residency at MANCC
Photos by Chris Cameron