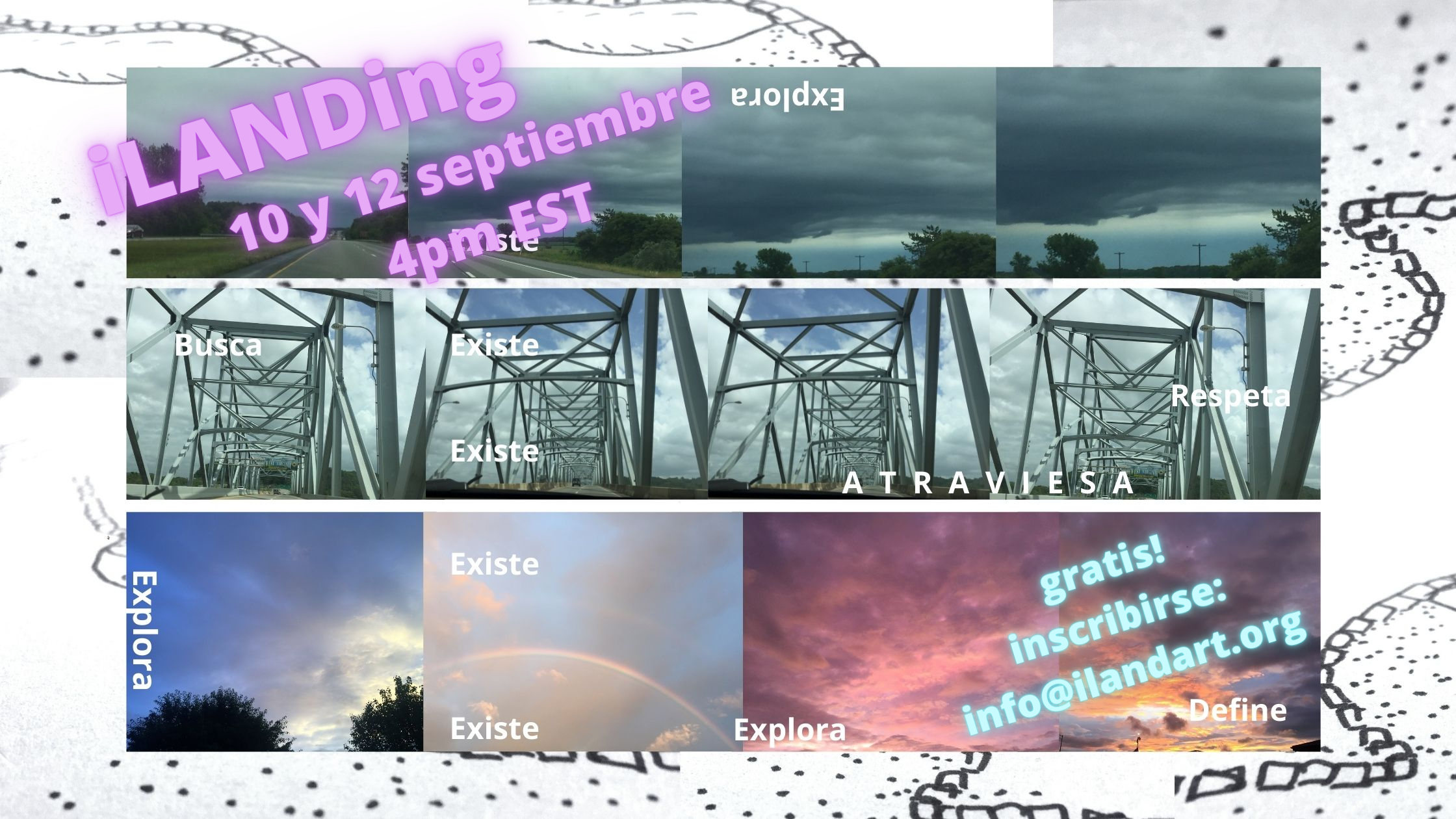 En movimiento con la ciudad
Investigación de la ecología urbana con partituras de movimiento 
Del 10 al 12 de septiembre de 2021.  Reuniones sincronizadas a las 4 pm el 10 y el 12 de septiembre (EST). 
iLAND- El Laboratorio interdisciplinario de Arte, Naturaleza y Danza ofrece un taller de movimiento gratuito en español.
Costo: Gratis
Detalles: En este taller practicaremos con partituras de movimiento diseñadas para explorar las ecologías urbanas en las cuales estamos inmersas. Improvisaremos en los espacios virtuales recién redefinidos, nos aventuraremos a explorar formas híbridas de interacción y encuentros en vivo. El viernes 10 de septiembre, un grupo de siete artistas presentará las partituras mediante Zoom. En esa misma sesión, nos dividiremos en grupos de cinco a siete personas, pondremos en marcha las partituras y discutiremos las posibilidades de interacción durante el fin de semana. Las partituras están diseñadas para activar el movimiento y la danza como una de muchas formas de entrar en relación con el entorno. Estas partituras se basan en métodos de colaboración entre coreógrafas, diseñadoras urbanas, biólogas, arquitectas, poetas, y profesionales o aficionadas de otros saberes. Las participantes tendrán la oportunidad de bailar, dibujar y trazar un mapa basado en observaciones de su vecindario y entorno inmediato. El sábado y el domingo las participantes activarán las partituras a su ritmo, cómo y con quien lo deseen. El domingo por la tarde nos reuniremos de nuevo en Zoom para compartir la documentación de nuestras experiencias y sentipensares. 
RSVP REQUERIDO. Para inscribirse, haga clic aquí. Te responderemos con el enlace de Zoom.
Si no tienes acceso a una conexión estable a Internet, avísanos y te enviaremos por correo electrónico un pdf con las instrucciones del taller.
Las partituras de iLANDing  activan una conciencia encarnada de los espacios que habitamos y que compartimos con otras especies. Te invitamos a explorar en colectivo estas ecologías con respeto a todas las sujetas que lo habitan y teniendo en cuenta las medidas de seguridad para evitar nuevos brotes de COVID. Pensamos los momentos en el mundo virtual como un espacio para intercambiar impresiones y escuchar paisajes lejanos, y así continuar ampliando tejidos comunitarios. Creemos también que el poner en práctica estas partituras es potencialmente reparador. Al dar prioridad a las partituras que se centran en el conocimiento de nuestras cuerpas, a través del movimiento y el cuido, y que buscan la apertura de diferentes percepciones, esperamos que esta experiencia impulse procesos para repensarnos y movilizarnos en relación con esos muchos mundos otros.
Se compartirá un pdf gratuito de 20 partituras con todas las participantes. Las partituras que compartiremos son parte de la guía de campo A Field Guide to iLANDing: scores for researching urban ecologies. Estamos a punto de terminar su traducción al español. 
Responsables del taller :
Alejandra Martorell, San Juan, Puerto Rico
Alex Viteri Arturo, Colombia/ Berlín
Catalina Hernández-Cabal, Colombia/Illinois
Gabriel Cerocién, Centro de Arte TicTac, México/Bélgica
Jennifer Monson, NYC/Illinois
Carolyn Hall, Brooklyn, NY
Rafael Cañals, NYC/Puerto Rico
---
Investigating urban ecology with movement scores 
September 10 – 12, 2021.  Synchronous meetings at 4 pm Sept 10 and 12. EST 
iLAND- interdisciplinary Laboratory for Art Nature Dance offers a free movement workshop in Spanish
Cost: Free
Details: In this workshop we will practice movement-based scores designed to explore particular areas of our local urban ecologies. We will improvise in the newly redefined virtual spaces, venture to explore hybrid forms of interaction, and facilitate live encounters.  On Friday Sept 10 , a group of 7 artists will introduce the scores via zoom. Then, we will move into breakout sessions with 5-7 people and set the scores in motion, and discuss possibilities for interaction over the weekend.. The scores are designed to activate movement and dance as one of many ways to enter into relationship with the environment. These scores are based on collaborative methods between choreographers, urban designers, biologists, architects, poets, among others fields. Participants will have a chance to dance, draw, and map based on their observations of their immediate space and neighborhoods. On Saturday and Sunday participants have time to work on the scores provided in their own time. On Sunday afternoon we will meet again at Zoom to share the documentation of our experiences and sentipensares.
To register, please click here. Zoom link to follow.
If you don't have access to a stable internet connection, let us know and we will email you a pdf of workshop's instructions. 
iLANDing scores activate an embodied awareness of the spaces we inhabit and share with other species.. We offer these scores as a restorative, awareness-building activity. We hope that participating in this workshop will give people a time to reinhabit favorite spots/locations with agency and community power, while remaining safe in terms of new COVID outbreaks. By prioritizing scores that focus on our embodied knowledge of space and activate openness and differing perceptions, we hope that this experience activates ways of reconfiguring and empowering bodies through movement and care.

The iLANDing scores activate an embodied awareness of the spaces we inhabit and share with other species. We invite you to collectively explore these ecologies with respect for all the subjects that inhabit them and taking into account safety measures to avoid new outbreaks of COVID. We think of the moments in the virtual world as a space to exchange impressions, meet with favorite places and listen to distant landscapes, and thus continue to expand community weavings. We also believe that putting these scores into practice is potentially restorative. By giving priority to scores that focus on the knowledge of our bodies, through movement and care, and that seek to open up different perceptions, we hope that this experience will drive processes to rethink and mobilize ourselves in relation to these many other worlds.

A free pdf of 20 scores will be shared with all participants. The scores we will share are part of A Field Guide to iLANDing. scores for researching urban ecologies. We are about to complete the text's Spanish translation.

Workshop leaders :
Alejandra Martorell, San Juan, Puerto Rico

Alex Viteri Arturo, Colombia/ Berlin

Catalina Hernandez-Cabal, Colombia/Illinois

Gabriel Cerocién, TicTac Art Centre, Mexico/Belgium

Jennifer Monson, NYC/Illinois

Carolyn Hall, Broo

klyn, NY
"En movimiento con la ciudad / Moving with the City" is made possible by the New York State Council on the Arts with the support of the Office of the Governor and the New York State Legislature.