Fluid Histories, Neighborhood Practices: Rehearsing a Changing Waterfront
a gathering around movement, science and the environment in New York City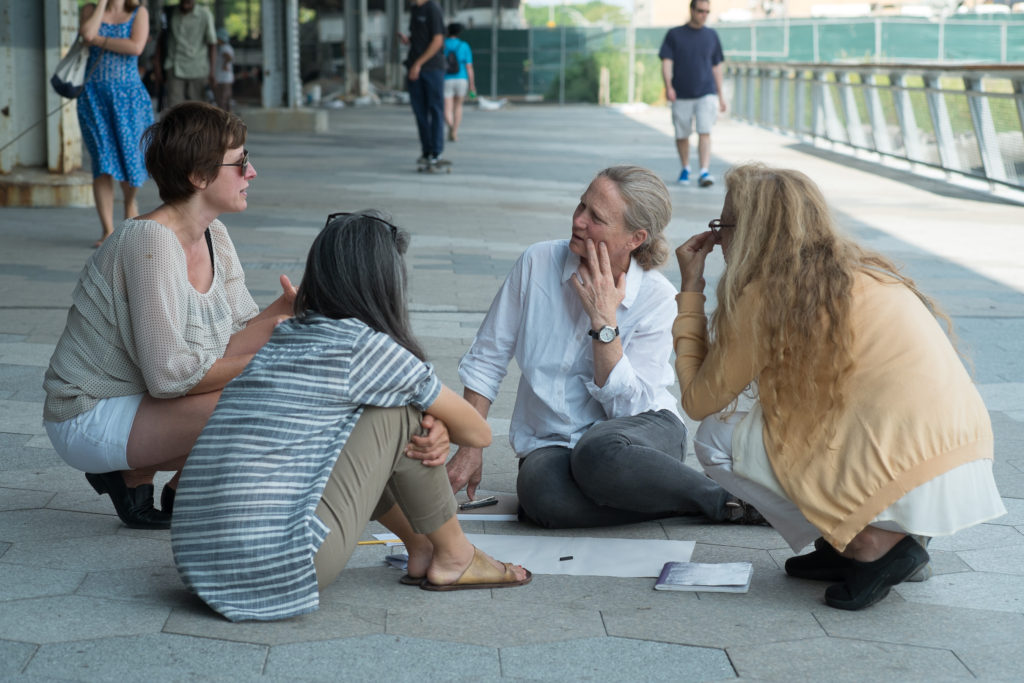 ---
April 17

 2015

 | Panel | 6pm – 8pm                       Panel bios and details HERE
The South Street Seaport Museum: Melville Gallery | 213 Water Street, NY, NY
Two Bridges Neighborhood Council: Goldie Chu Community Room | 82 Rutgers Slip, NY, NY
---
iLAND's 7th annual Symposium will focus on three interdisciplinary iLAB residencies – The Urban Backstage, Embodied Mapping, and Water + Im/migration – opening and investigating the collaborative processes and creative methodologies used by these residents to explore the cultural and ecological activity around the East River waterfront.
On Friday April 17, iLAND founder Jennifer Monson will moderate a panel speaking to the themes of the residencies with Susan Cheng (Musician & Executive Director, Music from China), Professor William Kornblum (Urban sociologist & author, At Sea in the City) and Eric Sanderson (Senior Conservation Biologist at the Wildlife Conservancy). The panel will be followed by an open discussion with the audience lead by discussants from each of the current iLAB residencies (arts educator Lu Yu, interdisciplinary artist Clarinda Mac Low, and public artist Kathy Creutzberg). A brief reception will follow. On Saturday April 18, each residency team will offer two-hour workshops that invite participants to engage in the residency's evolving collaborative process. Light refreshments will be served.
Admission is $5-$25, sliding scale for the panel. Free admission to the workshops.
Translation available into Chinese dialects.
---
---
Symposium Overview
What:  Fluid Histories, Neighborhood Practices: Rehearsing a Changing Waterfront is a two-day event in the Lower East Side brings together contemporary choreographers, Chinese Opera artists, designers, visual and theater artists, architects, ecologists, advocates and scientists for a panel and discussion on Friday evening and a series of workshops on Saturday afternoon. The workshops are led by the 2014/15 iLAB residencies: The Urban Backstage, Embodied Mapping and Water + Im/migration. These three residency teams are currently engaging in collaborative processes and creative methodologies to explore cultural and ecological activity around the East River waterfront.
Why:   Fluid Histories, Neighborhood Practices – Rehearsing a Changing Waterfront is an open forum for exploring new methods of understanding art and science through innovative collaborations between practitioners of seemingly disparate disciplines. The iLAND Symposium is a multi-faceted platform where artists and scientists can examine best practices for interdisciplinary projects, and make these available to a broader community by facilitating dialogue about contemporary issues and themes. These conversations also create a more direct bridge to the scientific community. Throughout the Symposium, participants engage in the process of searching for shared language and collaborative processes that cut across the arts and sciences, focusing on dance and the body as primary mediators of experience and imagination. This year's residencies were developed in as part of iLAB East River, a partnership between iLAND and Lower Manhattan Cultural Council, with the aim of engaging local artists to participate and to explore existing and potential perceptions and uses of the changing LES waterfront through their different disciplinary perspectives.
Who:    iLAND – interdisciplinary Laboratory for Art Nature and Dance – founded by Jennifer Monson in 2004, investigates the power of dance, in collaboration with other fields, to illuminate our kinetic understanding of the world. It is a dance research organization with a fundamental commitment to environmental sustainability as it relates to art and the urban context. Our goal is to cultivate cross-disciplinary research among artists, environmentalists, scientists, urban designers, and other fields. For more information, please visit ilandart.org or email info@ilandart.org.
In 2014, iLAND's Jennifer Monson began to work closely with Lower Manhattan Cultural Council (LMCC) to help inform the organization's work along the East River's waterfront. In 2013, LMCC launched the Arts East River Waterfront initiative to bring artists, designers and local cultural organizations into collaboration with community partners to activate Piers 42 and 35 on the Lower East River Waterfront with arts, culture and educational projects and public programming. The nearby Pier 35 is currently under construction as a new Eco-Pier, scheduled for completion in 2017. Building upon years of community advocacy and interest in the development of these new waterfront sites as an amenity for local residents, LMCC seeks to model arts and cultural activities that respond to the unique features of these sites, and reflect the needs, interests and history of the neighborhood –taking into account community priorities for the waterfront that range from leisure uses to resiliency planning in the wake of Super Storm Sandy. Through the partnership project Paths to Pier 42, LMCC and its partners are currently activating Pier 42 with arts, culture, design and educational projects and programming while the Pier awaits permanent redevelopment by the NYC Department of Parks and Recreation. With the iLAB East River project, iLAND and LMCC are providing development residencies and community engagement opportunities to three artist-lead groups working in the Lower East Side and Chinatown, envisioning projects for the East River Waterfront.
---
 The 2015 iLAND Symposium is supported, in part, by public funds from the New York City Department of Cultural Affairs in partnership with the City Council.