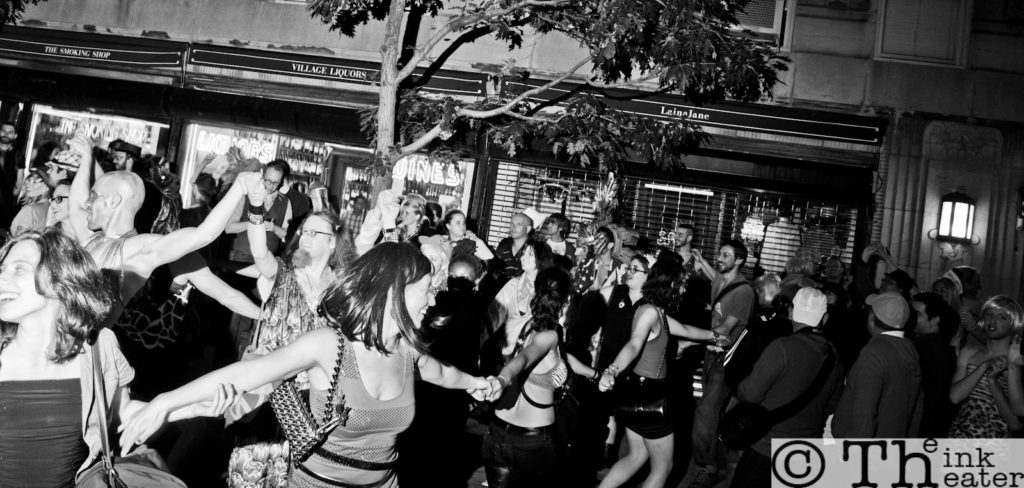 JUST LIKE THAT | Led by Daniel Rosza Lang/Levitsky
Saturday April 11 1-4pm | Guest Star Ebony Noelle Golden
Kymberle Project: 1332A Atlantic Ave, Brooklyn, NY 11216
 Sunday April 12 1-4pm | Guest Star Nicole Bindler

Tesseract: 22 Midwood St, Brooklyn, NY 11225
How can we use what we know from the dance floor – whether in the studio, at the club, on stage, or in ritual spaces – in street actions for justice? in collective decision-making? in the many spaces we move through as socially engaged inhabitants of our city?  What happens when we take 'the choreography of social movements' seriously, and work to develop it as a way of getting things done concretely?
Each afternoon we will explore different aspects of embodied knowledge and political movement, through bodily experimentation in the studio and in public space.  Guest stars Ebony Noelle Golden (Saturday) and Nicole Bindler (Sunday) will guide us through their ongoing work and new experiments.  We'll try out street tactics for confrontational situations; collaborative approaches to bodily presence in public space that trouble the line between symbolic and material impact; somatic strategies for staying connected to ourselves and our aims; and improvisational tools to cultivate non-verbal group communication and decision making.  We'll test new hypotheses and adapt old ones to new circumstances.  We'll articulate what our bodies already know, and develop ways of building on it through both words and movement.
April 11: Ebony Noelle Golden's Fire/Water: Performance Beyond Protest is an intensive cultural organizing and solo performance workshop for artists and non-artists invested in everyday performances of love, vision, resistance, and renewal. The session, comprised of unique blend of socio-cultural devised performance and creative design, culminates in a sharing of community-sourced tools and boundary-pushing performances for radical community transformation. We will meet at Kymberle Project (1332A Atlantic Ave, Brooklyn, NY 11216). Take the A, C, or S to Nostrand Station.
April 12: Nicole Bindler will facilitate experiments with somatics and improvisational performance practice in the context of political action. We will investigate how the skills of the dance-artist translate into the street. We'll begin in a quiet studio with a Body-Mind Centering® warm-up focusing on the experiential anatomy of the skeleton. This somatic practice will prepare us for engagement with others. Then we'll do simple contact improvisation partnering to integrate the skeletal work with another person. We'll increase the size of the groupings until we are dancing all together in ensemble. Then we'll go outside and see how we can maintain the grounding and clarity of our studio practice in the street. With more sensory stimulation, we'll notice when we become saturated and develop strategies to stay connected to ourselves and our underlying purpose. We'll use the tools of improvisational performance practice to cultivate non-verbal group communication and decision making in the moment. We will meet at Tesseract (22 Midwood St, Brooklyn, NY 11225). Take the Q, B, or S to Prospect Park Station.
Daniel Rosza Lang/Levitsky is a cultural worker and organizer based at Brooklyn's Glitter House. Can't stop picking things up on the street and making other things out of them – outfits, collectives, performances, barricades, meals…  Never learned how to make art for art's sake; rarely likes working alone. Multi-generational radical and queer – just another gendertreyf apikoyrus mischling fem dyke who identifies with, not as.  JUST LIKE THAT draws on experience as an on-stage dancer, a going-out-dancing dancer, and a participant in street actions over two decades, as well as puppetry and spectacle theater work. Recent projects have included "Hysterical Translations" (solo work at Dixon Place); "The Greatest Show on Earth in a Cardboard Box" (with Ariel Speedwagon, at the Hemispheric Institute for Performance & Politics' 2014 Encuentro); J Dellecave's "Angry Women REvisited" (HERE Performing Arts Center & Dixon Place's HOT Festival); several endeavors with choreographer Abigail Levine; and co-editing "Dreaming In Public: Building the Occupy Movement" with Amy Schrager Lang.  Ongoing work includes continuing the Critical Reperformance series (so far including works by Schneeman, Jonas, Warhol, and Abramović); hitting the streets with the Rude Mechanical Orchestra's Tactical Spectacle dance & performance team; creating radical Jewish extravaganzas with the Aftselokhes Spectacle Committee; and Palestine solidarity work with the Jewish Voice for Peace Artists & Cultural Workers Council.
Ebony Noelle Golden believes "we are the ones, we have been waiting for," as June Jordan's prophetic line of poetry continues to remind us.  Golden, a Houston, Texas native, works at the intersecting pathways of arts, culture, and education with individuals and organizations pushing for community-powered cultural change. Ebony is a cultural strategist, facilitator, performance artist and poet.  She has been awarded fellowships from Atlantic Center for the Arts and the Cave Canem Foundation, to name a few.  Her creative work has been anthologized, staged, and taught nationally and has recently been presented and produced by Dr. Barbara Ann Teer's National Black Theatre and Bronx Academy of Art and Dance. After a stint as a literature and creative writing professor in Durham, North Carolina, she decided her talents as an organizer, public scholar, and creative artist would be better spent activating "radical expressiveness with community."  In 2011, Ebony funneled her passion for entrepreneurship, youth development, culture shift, justice, education and the arts into Betty's Daughter Arts Collaborative, LLC, a cultural arts direct action group based in Harlem.
BDAC specializes in cultural and performance art curation, dramaturgy, devising, and staging of theatrical works for stage and public spaces, as well as offering a wide range of organizational and community development support.  The company is named after her now retired mother, professor, and community organizer, Dr. Betty Ann Sims.  The group boasts an impressive roster of collaborators that includes some of the nation's most forward-moving institutions which includes: Alternate Roots, 651 Arts, MAPP International, Urban Bush Women, National Black Theatre, The Highlander Center for Research and Education, Youth Development Institute, The Laundromat Project, Cool Culture, and Camille A. Brown and Dancers.
Ebony Noelle Golden earned a B.A. in Literature and Creative Writing from Texas A&M University, an M.F.A. in Creative Writing-Poetry from American University, and an M.A. in Performance Studies from New York University's Tisch School of the Arts. www.bettysdaughterarts.com.
Nicole Bindler is a body-based performing artist whose work is inspired by her training in new dance, dance-theater, Contact Improvisation, Butoh, Body-Mind Centering®, Yoga, and Feldenkrais. Her work has been shown throughout the U.S., Canada, Argentina, Berlin, Tokyo, Beirut, Mexico and Quito, Ecuador. Her work has been supported by Foundation for Contemporary Arts, Pennsylvania Council on the Arts (through Pennsylvania Partners in the Arts), the Pew Center for Arts and Heritage, FringeArts, Philadelphia Dance Projects and the Community Education Center. Bindler holds a B.A. in Dance and Poetry from Hampshire College, a degree in Muscular Therapy from the Muscular Therapy Institute and certificates in Embodied Anatomy Yoga, Embodied Developmental Movement and Yoga and Somatic Movement Education from the School for Body-Mind Centering. She is on the adjunct faculty at University of the Arts and Temple University in Philadelphia. She is a member of the Jewish Voice for Peace Artist Council, a member of Mascher Space Cooperative, a writer for thINKingDANCE and one half of the duo The Dance Apocalypse. http://www.nicolebindler.com