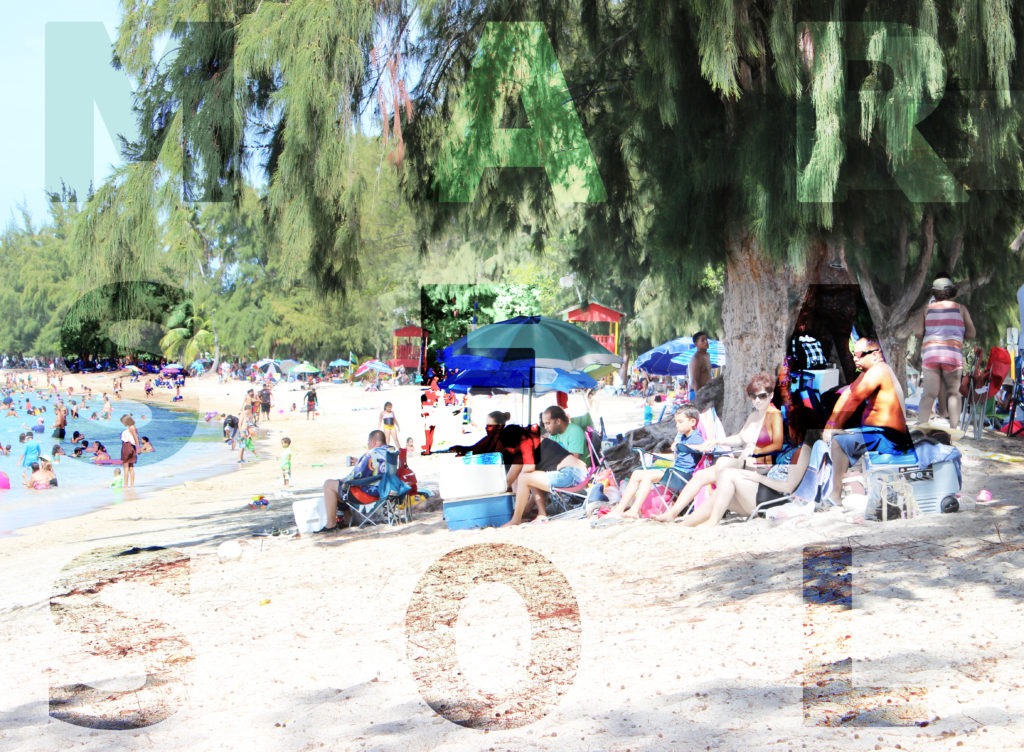 Mar Sea Sol
Led by Meredith Drum, Grisha Coleman, and Estrella Payton
Sunday June 21 4-7pm  & Sunday June 28 4-7pm
Mar Sea Sol will take place on two Sundays, June 21 and June 28, starting at 4pm and ending at 7pm in Pelham Bay Park. We will meet at the Salsa Sunday dance event on Orchard Beach, then stride along the famous beach, circumnavigate Hunter Island and engage in place-centering exercises at points along the way. We will hold mid and post activity discussions about the place immediately before us, discuss overlapping thoughts regarding personal, political and social representations of this location, and consider correlations to other seaside spots, particularly in the Caribbean. We will ruminate on perceptions of home and holiday; familiar and strange; city and country; belonging and nonconformity. An area of interest is in investigating the colonial history of the Bronx and that of various Caribbean Islands. What impacts of our colonial past are still in motion? Are these histories physically evident in our natural and cultural landscapes? Large bodies of water have surfaces impenetrable to our eyes; the sea can seem unknowable and intractable. Is this what keeps drawing us to it? How does this impact our time at the seaside and our sense of the history of these sites?
Activities will include somatic exercises – simple and accessible for all people – which will ground participants in body and in place. We will tune ourselves to the unique location and engage in sense mapping: colors (bathing suits, beach toys, birds); sounds (radios, cooking, playing); smells (suntan lotion, salty water, cooking); and skin sensations (temperature, heat, cool, wind, damp, dry). We will draw en plein air, observing human and non-human life, and the interchange between the two. Part of the walk will center on the beach, another on the nature trails. There will be a choice of activities, yet we will encourage all participants to salsa at our meeting spot – the Salsa Sundays dance floor at Orchard Beach.
Participants can take public transportation to Pelham Bay Park by taking the 6 train to the Pelham Bay Park station and walking to Bruckner Blvd and Wilkinson Ave. Take Bx12 Bus to Orchard Beach. Meet the group at Salsa Sundays at Orchard Beach at 4pm. We will have a bring-your-own picnic at the Orchard Beach picnic tables. We will supply simple basics: chips, fruit, cookies, water. Participants can either bring a protein or buy something at concession stands. 
Estrella Payton is an artist living and working in Phoenix, Arizona. Her current work focuses on making visible the invisible barriers between people. Payton is an observer of people, especially their interactions with each other in a space. Her research on power and privilege, racial formation in the U.S., cultural conditioning, and systemic inequity combined with her lived experience as a Stateside Puerto Rican, drives her motivation to complicate physical spaces to reorient a viewer's experience and perspective in an institutional space. Formally trained as a printmaker, her artwork explores the use building materials, drawn gestures, text, and collaged images to create physical barriers, constructed spaces, and installation experiences. Payton has exhibited nationally and has been the recipient of several non-traditional artist residencies. She was a participant of the Itinerate Summer, a 21-day walk along the southwestern coast of Puerto Rico, organized by Beatriz Santiago Muñoz of Beta-Local. Payton earned a BFA from the Kansas City Art Institute in Kansas City, Missouri (2007) and is expected to receive an MFA at Arizona State University in Tempe, AZ (2015).
Grisha Coleman is an Assistant Professor of Movement, Computation and Digital Media at the School of Arts, Media and Engineering and the School of Dance at Arizona State University [http://ame.asu.edu].  A dancer, composer, and choreographer in performance and experiential media systems, she is the recipient of a 2012 National Endowment for the Arts in Media grant for the development of her current project, echo::system, recently presented at ISEA 2013, ArtxScience in Los Angeles and the New Media Art Triennial at the National Art Museum in Beijing, China. An invited research fellow/artist in residence at Carnegie Mellon University's STUDIO for Creative Inquiry [2008], she was commissioned by the Robotics Institute at CMU to create a public, site-specific robot in Pittsburgh's downtown. Reach! Robot, a public sound sculpture, a kinetic installation and a domain for public interaction and participation inspired by the conduction techniques of Butch Morris. A graduate of the College of Letters at Wesleyan University, with an MFA in Composition and Integrated Media from California Institute of the Arts, she danced as a member of the acclaimed dance company Urban Bush Women [1990-1994], and subsequently founded the music performance group HOTMOUTH, which toured extensively nationally and internationally, and was nominated for a 1998 NYC Drama Desk Award for "Most Unique Theatrical Experience." She is a member of the Board of Directors for Society of Dance History Scholars.
Meredith Drum makes linear documentaries, short fictions, experimental animations, interactive exhibitions, and mobile media projects. She has recently exhibited her work in New York City, Dubai, Mexico City, Rio, Brighton, Paris, Copenhagen, and Valencia. She regularly collaborates with artist Rachel Stevens. They have been commissioned by the Lower Manhattan Cultural Council to produce Fish Stories: community cookbook and environmental resource as part of the 2015 summer programs at Pier 42 in New York City. She and Stevens are also producing Oyster City – a constellation of projects and events that draw attention to the relationship between urban life and marine ecology, especially in relation to the history and future of oysters in NYC. One component of Oyster City is an AR walking tour and game featuring 3D objects and text in real space visible with an iOS device. Meredith's research considering augmented reality, somatic communication and social critique has been published in scholarly journals including Media-N, spring 2012 (New Media Caucus), and AR(t) Magazine, winter 2013 (Royal Academy of Art, Netherlands). Drum is an Assistant Professor, School of Art, Arizona State University. She has also served as a visiting instructor at Pratt Institute in Brooklyn. Originally from North Carolina, Drum lived in New York City for 14 years before moving to Arizona in 2013.