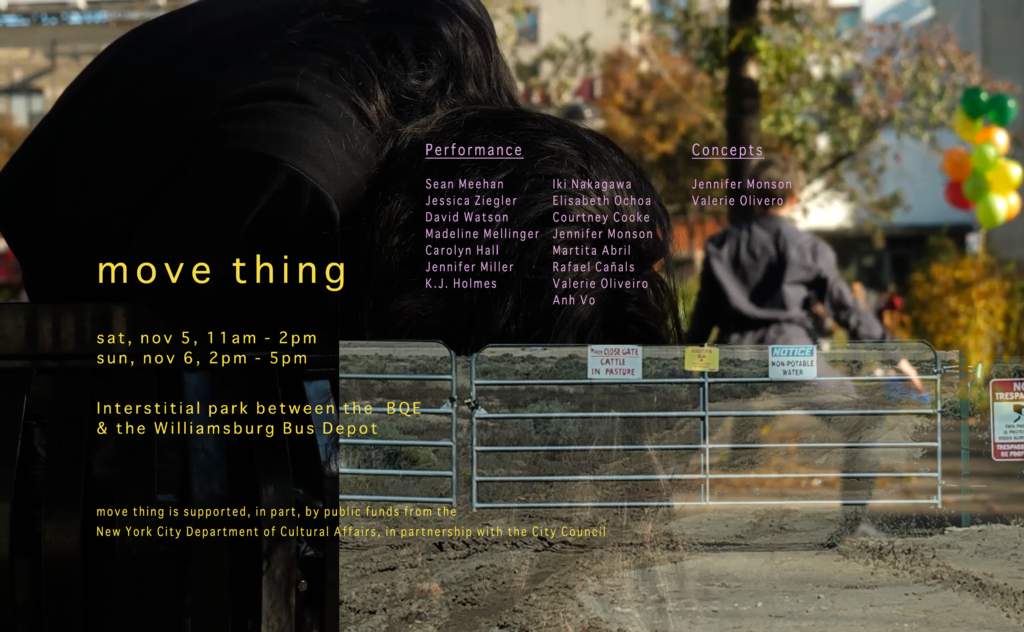 move thing
Research Performance III
FREE. No RSVP required.
Dates: Saturday, November 5, 11am – 2pm
Sunday, November 6, 2pm – 5pm
Location: Interstitial Park between the BQE and the Williamsburg Bus Depot
Performers: Jennifer Monson, Sean Meehan, Carolyn Hall, K.J. Holmes, Elisabeth Ochoa, Courtney Cooke, Madeline Mellinger, Jessica Ziegler, Jennifer Miller, Iki Nakagawa, David Watson, Anh Vo, Valeria Oliveiro, Martita Abril, Rafael Cañal
Conceptual formations: Valerie Oliveiro and Jennifer Monson
move thing is a community-based dance project proposing that the multi-sensory, improvisatory, and choreographic structures of dance contribute to reparative projects in communities that have historically been impacted by toxic contamination due to resource extraction (Uranium and coal mining) and industrial effluents (chemicals, particulates, carbon monoxide, and heavy metals). Resisting all forms of purity, the work proposes that we are all constantly, inherently, and unevenly making up each other and all other animate and inanimate beings. If we imagine ourselves as soluble, always dissolving and reconstituting choreographically, could we move through toxicity and be with and/or absorb toxicity and find new / alternative / old / transformative relationships to its states / tendencies / behaviors / effects / violences / shifts? Could we find intelligences within our bodies and abilities to connect more deeply with the mechanisms for survival and support in sites and systems that we are a part of?
move thing is supported, in part, by public funds from the New York City Department of Cultural Affairs, in partnership with the City Council
***
Alt-text description is available