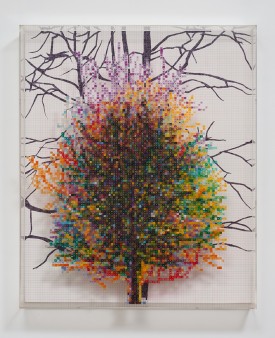 Off the Grid
Saturday September 27 3:30-6:30pm
The Studio Museum in Harlem
In anticipation of Charles Gaines's first live performance of Manifestos 2 (2013) at the Museum of Modern Art, join us for a workshop and field trip beginning with a brief tour of Charles Gaines: Gridwork 1974–1989, followed by an interactive movement exercise enacted as participants travel to MoMA in time for the performance and discussion.
Led by Elliott Maltby—a designer and founding partner of thread collective, a collaborative design studio that explores the seams between building, art and landscape—the movement workshop will encourage participants to adapt and apply the arbitrary, rule-based systems that underpin Gaines's works. Participants will animate the unique grid of Manhattan, calling on and channeling the themes of conceptualism that will be explored more in depth in MoMA's theater by panelists Sean Griffin, Stuart Comer, Naima J. Keith and Charles Gaines himself.
The tour and movement workshop are free with Studio Museum admission and will begin in the Museum lobby. Participants will, however, need to pay for their own subway fare. For more information click here. 
Please RSVP to programs@studiomuseum.org to reserve a space!
For tickets to Charles Gaines: Manifestos II at MoMA, please visit http://www.moma.org/visit/calendar/tickets/events/21846.
Charles Gaines
Numbers and Trees III, Shucks #11, 1987
Acrylic sheet, acrylic paint, and
pencil on paper
50 ½ × 42 × 6 in.
Collection of Jay and Diana Moss