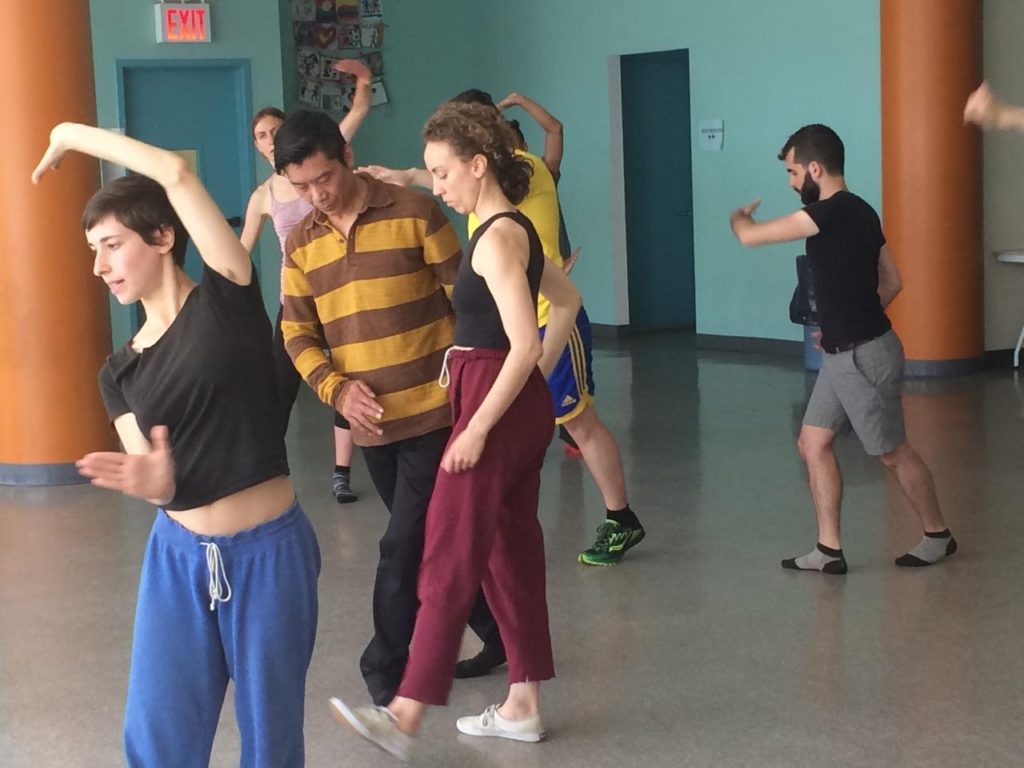 The Pier 35 Festival is happening in June 2018 in partnership with Lower Manhattan Cultural Council and Two Bridges Neighborhood Council. This project is supported by a Building Demand for the Arts Implementation grant from the Doris Duke Charitable Foundation. These workshops are supported in part by the NYC Department of Cultural Affairs.

June  12:30pm-2:00pm
Public Workshop with Andy Luo and Tatyana Tenenbaum
Two Bridges Neighborhood Council, 82 Rutgers Slip, Community Room, 2nd Floor
Over the past nine months artists Andy Luo and Tatyana Tenenbaum have been working on building a shared context for artistic and cultural exchange. Andy Luo is a professional Cantonese Opera performer originally from China and Tatyana Tenenbaum is an emerging American choreographer/composer. In this public workshop Andy will share Kung fu principals that underpin Cantonese Opera movement, and Tatyana will lead a vocal score.
June 3 12:30pm-2:00pm
Meet Jennifer Wen Ma at the Weekend Walk!
Rutgers Street, between E. Broadway and Madison Street
Jenifer Wen Ma is a visual artist working to create a special presentation of the opera Paradise Interrupted for the Two Bridges community. Meet the artist and learn about exciting elements of the work before it comes to the neighborhood, including sculptural garden pieces with accordion folds and construction based on Chinese folk tradition and craft. See how traditional materials are used in unexpected ways!
June 22  2:30pm – 4:00pm
The Origin of the Dragon Boat Festival: A Work in Progress
Open Door Senior Center 168 Grand Street
Led by Lu Yu and H.T. Chen
Lu Yu is an actor, singer, dancer, director, and choreographer working in collaboration with H.T. Chen of Chen Dance Center. Together they will conduct a workshop/demonstration at the Open Door Senior Center. Lu Yu and participating seniors from the Open Door Senior Center will lead a traditional Chinese dance warm up exercise, followed by a traditional drumming exercise. In response, H.T. Chen, and several company dancers, will present movement phrasses and excerpts from his repertory and share how he has used dance to express ideas.
This workshop presents the first exchange between dancers of Chen Dance Center and seniors who will work together toward the planned full-length production of the dance play Qu Yuan, that will be performed at the Pier 35 Festival in 2018.
June 22  12:00pm – 2:00pm
First Movement Workshop for UPRIGHT CITIZENS PARADE
Seward Park Library 192 East Broadway
Naomi Goldberg Haas and Laura Nova
Working with neighborhood seniors, this workshop presents the first activity working towards the Pier 35 Festival's UPRIGHT CITIZENS PARADE- a moving, visual, activist procession and performance created to connect community members of the Lower East Side. In this workshop participants will explore varied movement forms while using visual props.
UPRIGHT CITIZENS PARADE is created by Naomi Goldberg Haas, choreographer and Artistic Director of Dances for A Variable Population, and visual artist Laura Nova, and will be performed by neighborhood senior citizens and legendary senior dancers. The work will create a celebratory, visual journey that honors the experience of the neighborhood's long-term residents and marks the opening of a new eco-park at Pier 35.